Non healing Bilateral Varicose Ulcers on both the legs for 13 years
11/14/2014 8:09:41 PM
Non healing Bilateral Varicose Ulcers on both the legs for 13 years, healed with prayers.

One of the reports, containing pictures of the legs, give sufficient evidence of the non healing devitalized, darkened and thinned skin covering both the legs. Repeated skin grafting of the open wounds of legs failed. These wounds were discharging pus and serum all the time. He was unable to walk due to unbearable pain in the limbs.

To start with he had met with an accident about 13 years back. There was very severe pain in the legs and he could not walk. The cause was deep vein thrombosis of the veins of the both the legs. He had his treatment from the doctors and in 2010 his Doppler study of veins done in Batra Hospital and Medical Research Centre, New Delhi , revealed deep vein thrombosis of the veins of the both the legs, non healing ulcers,hyperpigmentation, oedema and dermatitis. And he had his treatment from Max Healthcare , Institute of Aesthetic and Reconstructive Surgery. New Delhi. He did not get any respite from the unbearable trouble. The doctors had told him that they can't do anything for him. Then he joined the healing camp in Ludhiana in Sep 2013. He stopped taking all medicines and started praying only, with that the recovery started and he is normal now and there is no swelling or wound on the legs. The miracle had happened.This is a case of surgery without knife or blood loss.

Sh. Manoj Kumar Khurana (age 45 years)
284/1, Insar Chowk,
Devi Mandar Road, Panipat. Haryana
Ph : 9034376831.

Medical Reports
Stone at lower end of Right Ureter came out without surgery
3/28/2013 11:37:11 PM
A mission employee who is brahmin by birth has many stories to relate. He developed frank haematuria about 5 years back. He is my assistant. When I saw the deep red colored urine, I immediately asked him to go to MH as he is also a retired nursing assistant from army. Luckily, a renowned nephrologists was there in the hospital. When he examined him, he found nothing wrong in x- ray and other tests. He did advanced test of ureteroscopy also. There he found a small stone struck at the lower end of the ureter. He was to be treated under general anaesthesia in the next few days. Regular prayer was being done for him in the mission. When he was taken to the operation theatre and was examined, no stone was found there. The bleeding had already stopped in the first few days only and he did not get any pain even earlier. This is the story of the grace of the Guru and fruit of His service. Reports of MH Jalandhar can be seen.

Sh Harmel Singh Bhardwaj
140 -D Raj Guru Nagar,
Ludhiana
Ph : +91-161-2454370

Medical Reports
Renal Stone
3/28/2013 11:35:04 PM
A member of the mission and the retired captain from army developed sudden severe pain in his abdomen at night. He is the resident of a village Mohie and at that odd time no medical aid was available for him. He decided to pray and listen to the audio tape of the mission shabads. He was surprised to find that within two hours of his prayers, his kidney stone came out without any help and he was relieved. This happened about 10 years ago. That problem did not recur.He is very active at the age above 80 years.He is the regular member of the mission.

Capt Gurmel Singh
VPO Mohie,
Distt Ludhiana
Ph : +91-161- 2877278
Fracture Hip joint
3/28/2013 11:32:12 PM

An old lady who was the mother of an air force officer had sustained fracture of hip joint. She was admitted to the MH and doctors had decided to do open reduction of the fracture. Her husband a senior doctor who retired from Punjab Civil Medical Service had wanted to get her cured with prayers only and he was against operation. He faced a ticklish problem, he could not ask his son not to get his mother operated or even he could not force the doctor to avoid operation. He went to the unit Gurdwara and prayed to Shri Guru Granth Sahib to help him. And the Hukamnama (Shabad) clearly announced her cure without operation. He was very happy. It was operation day and she was to be operated in the few hours. Being a doctor himself he met the surgeon in her room and requested to postpone the operation so that she could be built up for the operation. The surgeon agreed to postpone the operation. Then the patient was to be shifterd to the ward. Four stretcher bearers lifted to place her on the bed and during the process of lifting she fell down from their hands with a force. The patient made a loud cry with pain and nursing staff gathered around her. The stretcher bearers were also confused and were feeling extremely sorry for that. It had never happened earlier with any body and why that happened to her only was not known to anyone. And surely, that was not under the control of anyone and it was the superpower who had designed to fix her fracture that way. The lady sat up in the bed and showing everybody that she had been cured and she did hot have any pain and she could easily bend her knees. That event was supernatural and beyond any body to comprehend and the same was seen in the case of Vasu Bhardwaj also.

Dr. Channan Singh Dhaliwal
403 -A, Anand Nagar,
Tripuri,Patiala
Ph : +91-175-2351625
Raised black mole
3/28/2013 11:30:22 PM
A raised black mole, which measured 5x 5 mms was present on the face of one of the member of the mission. It was benign and measured 5x5 cms. The worthy member is CA and in the evenings he attends and takes part in Shabad Keertan which is being regularly organized at the residence of the patients. He did not like the mole and its growth on his face and he wanted that to go. He and even the writer also noticed that the raised mole had disappeared. The writer had requested him to give that in writing so that others may take inspiration from him. He responded that he would write only if the black spot also disappeared. It was again surprising that even black spot had disappeared and his writing was published in punjabi in the magazine of Sept. 2002 issue on page number 31.

Sh Surinder Singh
CA 174 - I Block,
BRS Nagar, Ludhiana
Ph : +91-94173-87494
Lipoma on the back
3/28/2013 11:28:40 PM
He is the only son of S Harmel Singh Bhardwaj. A small growth of 1.5x1.5cms was found on the back of the chest of this child, and S Harmel Singh was worried about this growth and wanted to get that surgically removed. And another Rog Niwaran Camp at Ludhiana was due in the few days and he had decided to pray, so that surgery may not be needed. And it happened again for him, you may call it a miracle, there was no trace of any growth left at the site of old growth. at end of the camp. He was surprised himself and could not believe his eyes. Mr Harmel Singh Bhardwaj is a lucky and blessed person and God helps him everywhere.

Mr. Jatinder Bhardwaj
S/o Sh Harmel Singh Bhardwaj
140 -D Raj Guru Nagar,
Ludhiana
Ph : +91-161-2454370
Recurrent dislocation
3/28/2013 11:24:02 PM
A retired soldier of army had developed this problem after he fell down from the stairs in 1982 and he was treated in MH. After one month of this injury he developed this disability. He used to get this problem even while sleeping and in day time also. It became difficult for him to attend to anything as right arm would get locked and was disabled. This is a surgical problem and cure without surgery is not possible. He is an employee of the mission and used to work for the mission during the camp. He continued to have this problem for 10 years before he obtained sudden and complete relief in the camp in 1992. It so happened that while doing duty in the camp his shoulder got dislocated and he was upset. At that time he asked the Guru if he got this problem while serving Him them who would give him cure. His appeal was, immediately decided in his favour and he obtained complete relief. Another 10 years had passed and he never had his dislocation again. His son and wife also had relief from their diseases and the same can be read in this article.

An article, showing a number of patients of this disability who were operated and follow up was done by various research centres across the world. This article illustrates well the outcome of this disease in the best hands. Some salient features of the paper indicate, not even a single patient had complete natural relief, and even those who benefited had to suffer some sort of disability, there was recurrence of the disease in some and in others there were infections and pain after the surgery.

My dear friends in medical profession , have you encountered similar relief to any one in your clinical experience. This research serves our purpose very well as no one could have done so many surgeries for this problem single handedly. And it is difficult to challenge the results.

Sh Harmel Singh Bhardwaj
140 -D Raj Guru Nagar,
Ludhiana
Ph : +91-161-2454370

Medical Reports
Spina bifida
3/28/2013 11:19:16 PM
Incurable congenital defect was set right with prayers. It is the most common disabling birth defect in USA. It is a type of neural tube defect, which is a problem with the spinal cord or its coverings. It happens if the fetal spinal column doesn't close completely during the first month of pregnancy. There is usually nerve damage that causes at least some paralysis of the legs. Many people with spina bifida will need assistive devices such as braces, crutches or wheelchairs. They may have learning difficulties, urinary and bowel problems or hydrocephalus, a buildup of fluid in the brain. There is no cure. Treatments focus on the complications, and can include surgery, medicine and physiotherapy.

This girl was irritable, crying most of the time, there was pain in the back and could not lie down. There was pain in the left leg and it was thinner than the other one. There was a raw healed wound on the lower end of the back in middle. She could not stand up or walk with support. She did not eat well and there was lack of sleep. The doctors had advised surgery which was the only treatment for her.

She was brought to the one hour healing session at 385-L Model Town, Ludhiana in Feb, 2008. She was seized with miracle like relief, within a few days the pains had disappeared and she became cheerful. She eat well and she gave the impression of normal looking child. She started bearing weight on lower limbs and she could walk with minor support. Could any medicine or yoga exercise would have helped her? This is super relief and cure with no paralell to it.

Simranpreet Kaur (aged 2½ years)
D/o S. Harvinder Singh and Bhupinder Kaur
H.No. 2878, CRPF Colony,
Dugri, Ludhiana
Ph : 9915211003, 01614641809

Medical Reports
Damaged Right knee became normal
3/28/2013 11:06:45 PM
He is a blessed soldier he suffered from badly injured knee a few decades ago and from the last few years his pain in knees worsened and MRI showed the badly damaged interior of the joint, ie: ligaments, cartilages and severe osteoarthritis changes. He was operated by famous surgeon Dr. Karam Singh Grewal about 4 decades back. He had warned that the knee can need another operation after sometime. That advice came out to be true. His only treatment was the surgery of the knee joint. He joined the Sarab Rog Ka Aukhad Nam Mission healing camps in Model Town, Ludhiana. He does not require any pain killer and he can walk comfortably. He is cured of the disease.

Major Sucha Singh Rana
260 –A, Shastari Nagar
Ludhiana
Ph : +91-161-2456301

Medical Reports
Congenital Extra ventricular obstructive hydrocephalus [EVOH]
3/26/2013 9:35:28 PM

Congenital Extra ventricular obstructive hydrocephalus [EVOH] cured without surgery
The child was born full term and cried normally at birth. He could not be diagnosed till 6 months of age. His sleep used to be disturbed with spasms and his size of head was increasing and looked abnormal. His vision was affected and his feet were tilted due to spasm otherwise normal in shape. The doctors were consulted and his 2D M R I of the head was done and it was found that he suffered from EVOH[Extra ventricular Obstructive Hydrocephalus] The stenosis was likely at the level of the aqueduct. The doctors had advised shunt to drain the fluid and even with the shunt his recovery was not certain.

His mother Mrs. Aminder Kaur brought him to 385-L Model Town, Ludhiana to healing sessions of Sarab Rog Ka Aukhad Nam Mission Ludhiana. He was being given Homoeopathic medicine without any benefit. Doctor Balwant Singh had told them to stop the treatment and depend upon the treatment of allopathy if at all some thing needs to be done and to have faith in God and Gurbani. Within days he started improving and now he has made a complete recovery. His sleep became normal, the constant increase in size of head had stopped. His vision and balance of eyes have become normal. And his feet are normal and there is no tilt. No medicine is being given. The relief is unbelievable.

Hydrocephalus is abnormal expansion of cavities within brain and is caused by increased pressure of CSF. Congenital hydrocephalus is caused mostly by aqueduct stenosis. If no surgical intervention is done to relieve pressure then serious developmental defects can appear in the child like.

• Headache
• Nausea and vomiting, especially in the morning
• Lethargy
• Disturbances in walking (gait)
• Double vision
• Subtle difficulties in learning
• Memory delay in children achieving developmental milestones

How can you explain this relief? My friends know much better than me and no body can dream that such a relief could be there. Let us join in prayers to God Almighty through Gurbani to thank him.

Japanjot Singh (age 3 years)
S/O S. Sarvpreet Singh
259-R, Model Town,
Ludhiana
Ph: 9815642877

Medical Reports
Severe Osteoarthritis both knees requiring surgery got well without surgery
3/26/2013 9:23:49 PM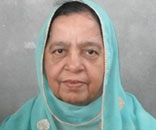 She started having pain in left knee about 10 years ago and the disease involved the other knee also within one year. She was having pain even on rest. It was not possible to walk, sit or sit cross legged on floor. The doctors advised her not to sit on floor or cross legged any time. Use chair for sitting. She was not getting better with the treatment then the doctors advised knee replacement of the both the knees. She started coming to the mission program about 8 years ago, there doctor Balwant Singh told her and other patients with the similar problems to sit on floor and do active exercises. She followed the advice and kept attending the mission programs of daily and 6 monthly healing camps. She is absolutely fine there is no pain on walking or sitting and she does not require pain killers. She is cured without surgery. Whereas surgery has failures, complications and monetary loss also.


Tripat Kaur Sodhi
240 BX Model Town Extension,
Ludhiana.
Ph:0161 2450313
Severe Osteoarthritis both knees and lumbar spinal vertebrae
3/26/2013 9:06:35 PM

Severe Osteoarthritis both knees and lumbar spinal vertebrae causing deformities for 30 years got cured for the last 4 months

She is 59 years in March 2012. About 30 years back, she had developed unbearable pain in both the knees and which later on extended to involve lower back spine. She was unable to lie down on bed and while getting up she would find difficult, she would turn side then would get up. The Pain in the back would make her unable to bend and walk. CMC hospital had prescribed the pain killers diclogesic . She took the pian killers for 12 years. She had taken treatment from all different sources, like ayurvedic and homoeopathy for long time without any relief. She became regular member of the mission from the last 4 years. She experienced gradual and sustained relief. Now she does not require any pain killer, can sit or squat on floor and pain in the back is gone. This much relief cannot be possible even with surgery. This is super relief.

Iqbal Kaur Bhalla
Panjab Mata Nagar, Gali No 6.
Ludhiana.
Ph:. 76966 70979