Infantile spastic hemiplegia of left side of body
6/30/2017 11:10:54 PM
Infantile spastic hemiplegia of left side of body, involving left upper limb and left leg, since birth and under constant medication for over 14 years, got instant relief In one day. This can be a just imagination but true, the girl had given report. Now she is able to walk without any help and left hand is working like normal. She was unable to walk and now she is walking like a normal child.
Spastic hemiplegia is a neuromuscular condition of spasticity that results in the muscles on one side of the body being in a constant state of contraction. It is the "one-sided version" of spastic diplegia. It falls under the mobility impairment umbrella of cerebral palsy. About 20–30% of people with cerebral palsy have spastic hemiplegia. Due to brain or nerve damage, the brain is constantly sending action potentials to the neuromuscular junctions on the affected side of the body. Similar to strokes, damage on the left side of the brain affects the right side of the body and damage on the right side of the brain affects the left side of the body. The affected side of the body is rigid, weak and has low functional abilities. In most cases, the upper extremity is much more affected than the lower extremity. This could be due to preference of hand usage during early development. If both arms are affected, the condition is referred to as double hemiplegia. Some patients with spastic hemiplegia only suffer minor impairments, where in severe cases one side of the body could be completely paralyzed. The severity of spastic hemiplegia is dependent upon the degree of the brain or nerve damage.


Diksha aged 16 years,
D/o Sh. Rajesh, Vill. Mithapur,
Distt. Jalandhar.
Ph: 98157 85170

Medical Reports
Chronic Granulomatous interstitial nephritis (GIN)
11/3/2015 8:58:39 PM
He started suffering from loss of weight, tiredness, blurred vision in right eye and BP was very high in Sep 2014. Admitted in DMC, Ludhiana. He was found to be suffering from End stage renal failure. Kidney biopsy confirmed chronic granulomatous interstitial nephritis with tuberculoma. He was given anti TB treatment for 9 months along with steroids and other drugs. He required dialysis thrice a week and his blood urea was ranging between 195 mgm to 150 mgms and now it is 80-90mgms. Creatinine was also high at 15 mgms now 9 mgms. BP with medicines was 150/100 mm hg now without medicine120/80. He was breathless, used to have limited water intake, now water intake is as per his needs and urine output is better. No constipation. His Hb increased from 8 mgms to 12 mgms. He joined the healing sessions of Sarab Rog Ka Aukhad Nam Mission at Ludhiana from March 2015. His improvement in health is quite remarkable. His capacity to work without getting tired has increased. Water retention has decreased as his weight has decreased by 9 kgs. His skin color is now better and black discoloration is gone. He requires dialysis only twice a week. His weight gain before each dialysis was 4 kgs which was being done thrice a week and now he requires dialysis twice a week and his weight gain decreased to 2 kg before the dialysis. He is regular in prayer sessions. He is very hopeful and positive in his thinking.

Otherwise this disease is progressive and ends up in kidney transplant. Kidneys remove waste products and help balance water and salt and other minerals ( electrolytes) in your blood. When your kidneys stop working, waste products, fluids, and electrolytes build up in your body. This can cause problems that can be deadly.

Prabhdeep Singh( age 23 years)
2966 ATI Road, New Janta Nagar,
Ludhiana.
Ph : 9914477760

Medical Reports
Severe Pulmonary Artery Hypertension with right heart failure
4/26/2015 8:01:58 PM
Severe Pulmonary Artery Hypertension with right heart failure, Sleep apnoea and hypothyroidism
He was normal till 2008. He was breathless most of the time and it increased with the time.It took nearly 3 years for definitive diagnosis of his ailments. By each passing day his condition continued to get worsened. He had the opportunity to get the treatment among the best hospitals of the country. He developed enlarged right atrium and right sided heart failure. He started having ascites. He had the fluid collected in the abdomen which needed draining frequently. He was depressed and ultimately doctors had told him that nothing can be done for him. He could not walk with out stopping after every few minutes to rest and breathe. His life was desperate. Luckily he learnt about Sarab Rog Ka Aukhad Nam Mission and read about a patient who had muscular dystrophy. He downloaded the sabads from youtube and and on very first day of listening he had remarkable change in his mind and body. He slept well and did not feel breathless on walking longer distances. He came to Ludhiana to attend healing sessions at 385L Model Town Ludhiana from March 30, 2015. He is cured to the extent of 80%. This is a miraculous turn around. He wants to spread the message of the mission to the world.

PAH is a disease in which the pressure in a patient's pulmonary arteries becomes dangerously high. Pulmonary arteries carry blood that has returned from the body to the lungs, where the blood receives a fresh supply of oxygen. That high blood pressure puts a strain on the heart. PAH is one of five types of pulmonary hypertension (PH). PAH worsens over time and is life-threatening. It is a relatively rare disease, affecting 1 in 100,000 to 1 in 1 million peopleThere is no cure for PAH, and it worsens over time.

Approximately 50 percent of people diagnosed with PAH die within five years. For people whose PAH is not treated, average survival is only about three years. Even with treatment, the pressure in the lungs caused by PAH will continue to worsen and make everyday tasks more difficult. But many patients make lifestyle changes that allow them to go about many of their daily tasks.

Tarun Angra (age 38 years)
A-2/207, Rail Kunj, Sector 3,
Vasundhara, Ghaziabad,
201012 ,UP
Ph : 09711103262

Medical Reports
Severe COPD with type 2respiratory failure
4/26/2015 7:49:31 PM
Severe COPD with type 2respiratory failure, doing fine without drugs
This gentleman is an exception and defies all medical knowledge as to how he is managing absolutely normal life with such a life threatening lung dysfunction. He had suffered from asthma, since childhood and this disease ran in his siblings. His whole life was dependent upon inhalers, nebulizers, off and on antibiotics and steroids. This is usual for any body who suffers from this disability.

Before joining the mission he had his pulmonary function tests done from CMC Ludhiana. Doctors noted his FEV1 at 0.49 which is at 23% of desired level. This indicates severe obstruction in small airways – alveoli and severely damaged lungs. And another hospital had diagnosed him with, type 2 respiratory failure. Tachycardia and cardiac arrhythmias may result from hypoxaemia and acidosis. It can lead to right ventricular failure, hepatomegaly and oedema.

CT scan indicates the damaged lungs with fibrosis, emphysema and consolidation in some parts. Can this person breathe normally? This is a question for the medical fraternity to answer. I don't think any body could explain his normal breathing and life at ripe age of 77 years. He is walking, sleeping and eating normally. This is the super magic of healing through Gurbani at Sarab Rog Ka Aukhad Nam Mission. Ludhiana.

Chronic Obstructive Pulmonary Disease (COPD) is a lung disease that includes chronic bronchitis and emphysema. In chronic bronchitis, your airways become swollen and can be filled with mucus, which can make it hard for you to breathe. In emphysema, the air sacs (alveoli) in your lungs are damaged which can make it hard for you to breathe. Consolidation is the collapse of alveoli. And it results with lack of supply of oxygen and accumulation of carbon dioxide in blood. This is very serious malady and there is no remedy except to supply oxygen at positive pressure to the patient, round the clock.

S. Amolak Singh Ghai (age 77 years)
233 –C, Model Town Extension,
Ludhiana.
Ph : 98722 00264

Medical Reports
With 5 year history of Ulcerative colitis got completely cured in two days
12/14/2014 9:56:40 PM
She started having severe pain abdomen in December 2008. She passed 12 to 15 lose motions per day, containing mostly blood . Her life had turned miserable and she was taken to gastroenterologist in DMC Ludhiana. There was no improvement and had lost hope of getting well at all. Luckily for her she started coming to healing sessions at Guru Amar Dass Rog Niwaran Kendre Ludhiana in August, 2014. She could not believe herself on second day of her coming to the mission. She did have normal stool with no trace of blood and pain had vanished. This is more than a miracle. She could not manage her home and even while eating she had to rush to the toilet. She did not have any problem till now in December 12, 2014. She is very happy.
Ulcerative colitis is a chronic inflammation of the large intestine (colon). The colon is the part of the digestive system where water is removed from undigested material, and the remaining waste material is stored. The rectum is the end of the colon adjacent to the anus. In patients with ulcerative colitis, ulcers and inflammation of the inner lining of the colon lead to symptoms of abdominal pain, diarrhea, and rectal bleeding.
Ulcerative colitis is closely related to another condition of inflammation of the intestines called Crohn's disease. Together, they are frequently referred to as inflammatory bowel disease (IBD). The large intestine had to removed in serious cases.

Mrs.Sarabjit Kaur (age 44 years)
w/o S.Manjit Singh
House No. 15396, St No 15,
Prabhat Nagar, Ludhiana.
Ph : 94633 69354

Medical Reports
Steroid Resistant Nephrotic Syndrome in a child
11/23/2014 5:22:14 PM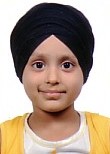 The trouble started with complete lack of sleep in Oct. 2012, crying all the time, swelling over eyelids and face. Within 3 days she developed fever of 103 F and she did not pass urine. The swelling extended to all over the body and she developed breathlessness. High doses of steroid did not help for over six months. The child was brought to healing sessions from early 2013 and the child is absolutely fine now. This girl understands the prayer does help. She is very positive and says for any problem the prayer helps. One can see the swelling all over the body and face in the lab report. At present, she does not have any problem.

Outcome of steroid resistant nephritic syndrome is not good and majority has fatal end. Heavy doses of steroids did not help and the doctors were thinking of doing renal biopsy. The regular prayers helped this child.


Ekjot Kaur (age3½ years)
D/o Dasamjot Kaur and Prabhjot Singh
143-L, Model Town,
Ludhiana.
Ph : 98881 82062

Medical Reports
Chronic Suppurative Otitis Media with attic perforation unsafe type
10/16/2014 9:21:32 PM
Chronic Suppurative Otitis Media with attic perforation unsafe type, leading to Encephalopathy- Cured does not require any medicine.

She suffered from Chronic Tonsillitis from child hood, and used to have frequent fever, running nose, throat infection, and ear discharge. She had to take antibiotics most of the time. She had her treatment from all known sources of treatment without any relief. And the problem continued even after her marriage. She was taken to Guru Nanak Mission Hospital Jalandhar in June 2011 where ENT specialist diagnosed her with CSOM with attic perforation which was unsafe type. Unsafe CSOM involves cholesteatoma. Cholesteatoma is a non-malignant but destructive lesion of the skull base. She was operated for Modified Radical Mastoidectomy. After the operation she would fall unconscious. These fits would occur three times a day and some body would remain with her all the time. Awake EEG record of the patient was done in Feb, 2013. It indicated brain damage- encephalopathy. She was really desperate and was thinking of ending her useless life. She was in that state for more than a year. Her brother in Australia told her to attend the Sarab Rog Ka Aukhad Nam Mission programs in Ludhiana. She was brought here at Ludhiana in Oct. 2012. She did not get any relief and her face and body developed severe rash. She thought that it won't give any relief. Luckily she was brought again in May 17, 2013. And surprisingly she was completely relieved. She came back again in Oct. 2013 to thank the mission. She met us in Oct 2014 to report her complete relief. She is very happy.

Mrs. Kamaljit Kaur (age 36 years)
w/o S, Lakhbeer Singh
V.Pharwala, Distt,
Jalandhar.
Ph : 94176 18512

Medical Reports
Series of problems including typhoid fever, disseminated TB in chest
1/19/2014 10:35:25 PM

Series of problems including typhoid fever, disseminated TB in chest, pericardial effusion, celiac disease, liver cirrhosis, splenomgely, diabetes type 1, recurrence of TB, autoimmune disorder causing extremely weak body, bed ridden. And the doctors had lost hope of her survival. Long standing multiple diseases from 13 years had been eradicated in the matter of a few days.
About 13 years back, to start with she had fever and the cause of fever could not be found. She was taken to every known good hospital like PGI Chandigar, Rajindera Hospital,Patiala and Medical College, Faridkot. She had treatment for typhoid fever disseminated TB, pericardial effusion, liver cirrhosis, splenomegaly celiac disease Her health continued to deteriorate. She developed diabetes for which injection of insulin were given. The exact cause of liver disease could not be found. She had full course of anti TB drugs and even then recurrence occurred. . She developed celiac disease and had complete loss of appetite..There were joint pains in the entire body. She says, she even could not one take one morsel of food. She was bed ridden and she wanted death to permanently relieve her from so many problems. Before coming to the mission, she was admitted in Rajindera Hospital Patiala and then taken to PGI Chandigarh. The doctors had told the parents that she may not survive long. At that time her mother learned about the mission from the internet. She came to Ludhiana on July 2013. She recovered completely and she does not require any medicine. Her diabetes type 1 had been eliminated and she does not require any medicine for any problem. She is as normal as any girl of her age.
It can't be explained as to what had changed in such a short time. Undoubtedly the power of God is manifested openly in Sri Guru Granth Sahib ji.

Kamalpreet Kaur( aged 24 years)
D/o S. Balveer Singh
61 Deep Nagar, Patiala .
Ph : 97801 000837

Medical Reports
Ataxia Telangiectasia, a hereditary disease with no cure is under control
5/13/2013 3:25:43 PM
Ataxia-telangiectasia is a rare inherited disorder that affects the nervous system, immune system, and other body systems. This disorder is characterized by progressive difficulty with coordinating movements (ataxia) beginning in early childhood, usually before age 5. Affected children typically develop difficulty walking, problems with balance and hand coordination, involuntary jerking movements (chorea), muscle twitches (myoclonus), and disturbances in nerve function (neuropathy). The movement problems typically cause people to require wheelchair assistance by adolescence. People with this disorder also have slurred speech and trouble moving their eyes to look side-to-side (oculomotor apraxia). Small clusters of enlarged blood vessels called telangiectases, which occur in the eyes and on the surface of the skin, are also characteristic of this condition.

People with ataxia-telangiectasia often have a weakened immune system, and many develop chronic lung infections. They also have an increased risk of developing cancer, particularly cancer of blood-forming cells (leukemia) and cancer of immune system cells (lymphoma).

Ataxia-telangiectasia occurs in 1 in 40,000 to 100,000 people worldwide This child was weak at birth, he used to fall down on walking. His body started shaking and he was unable to walk on his own. He would very quickly catch sinopulmonary infections on exposure to water. He would develop fever, sinus and chest infections. He started having epileptic fits also. He was treated by Swami Ram Dev for 2 years and he tried Panch Karma method also without any benefit and similarly the parents tried homeopathic medicines for 2 years without any relief.

In Sep 11, he was brought to healing camp at Ludhiana, at that time he was in worse form. He needed medication to control his fever. The fever was relieved without any medicine in the camp. His overall improvement became visible and continued to improve in the successive healing camps of 2012 and in the latest camp of April 2013. He did not have fits, he could walk and eat food on his own and fever did not come up from the last one year. The involuntary movements are lot better. This sort of relief in unexpected and do not happen. And I am sure no body can explain this miracle.

Samardeep Singh (age 14 yrs)
Kurukshetra, Haryana.
Ph : 98132 33416

Medical Reports
Encephalitis of 2 years standing causing repeated tonic
5/10/2013 12:26:29 PM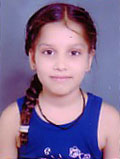 Encephalitis of 2 years standing causing repeated tonic and clonic seizures cured in one day.

Kashish was born as a normal full term baby girl. She enjoyed good health till 8 years of age, when she developed very high fever for 4 days. She developed seizures, her face was tilted, eyes remained widely open, turned upwards and did not close. Both of her fists were clinched. She was unable to listen or speak anything for nearly 2 hours. This was typical attack which kept recurring after every six months for one year and it got worsened with time and it became twice a week. Her mother Aarti aged 30 years works as domestic help. She was married in Panipat. This child was taken to renowned hospital of Rohtak at BD Sharma PGI. No improvement was seen with any treatment. She was sent to school at Ludhiana and school would call her mother sometimes three times a week to take her home for treatment. One can easily imagine the desperation she was in. Luckily for her, Simran, her niece had completely been cured from incurable Celiac Disease in a very short time. Her sister in law recommended to her to take help from the same source. Then she started coming to the healing sessions at 385-L Model Town Ludhiana about 6 months back. She used to come four times a week for three months. Since the time she started coming to the healing session the child did not have any such episode. She was cured instantly. She bows before Shri Guru Granth Sahib ji and says that He is my Doctor who had eradicated all problems. The things have turned around her in good form. She does not have words to thank the Sangat and Guru.

Kashish
D/o Mrs. Aarti
H No 408, Gali No 15,
Labour Colony, Jawahar Nagar Camp
Ludhiana.
Ph : 96463 41207

Medical Reports
Collagen disorder
3/29/2013 11:28:26 PM

This is a fatal disease without any treatment, it is the turning of our own defence system against our own body parts. No body is known to recover from this ailment. She was in a very serious condition when she was brought to the healing camp at Ludhiana in March, 93. She started with swelling of small joints of hands which was followed by fragmented black skin. She had lost lot of weight and was reduced to a just skeleton, unable to walk or even stand on her own and even in bed, somebody had to help her to change her sides. Her skin was blackened and was very thick. The doctor who could clinch the diagnosis was Dr JL Bhatia of Amritsar. Her disease had started three years earlier and she had the advantage of the treatment from all the known sources of medical care without any relief and disease continued in its fury. Ultimately, her husband was advised to take her home for peaceful end. The high level of immunoglobulins Ig G is the indicator.It was not to happen. She started improving in the successive repeated healing camps and after about one year and four camps, she had recovered and was absolutely healthy and fully cured. No body could believe it and even the local newspaper carried the story of her recovery and it had been posted in news items of the website.

Mrs. Bhagwant Kaur
W/O Lt Col Baldev Singh Brar
#81, Defence Colony,
BRS Nagar, Ludhiana
Ph: +91-161-2452291

Medical Reports
Bullous Pemphigoid
3/29/2013 11:24:23 PM
It is a very serious auto immune disorder and causes large blisters on the skin and in the mouth cavity also. It cannot be prevented. So far treatment is in the form of immunosuppressant drugs and steroids. The drugs donnot give lasting relief and the patients ends up with the complications of the drugs and donnot survive long. This patient was a diabetic and hypertensive also so his chances of survival were remote.There is no known case of cured patient in the entire world. This can be known by getting information on online through world wide web.Reports are available and can be seen.

Disease is fully cured now and he is maintaining the normal health from 1998. He did not get any relapse of the disease any time, it is the definite indication that he is the only person who had been cured from this deadly disease. Reports are available and can be seen. He is having a perfect healthy life and he had not faced any problem. He had the benefit of his cure through the mission prayers.

Dr. Sohan Singh Josh
#947, I-BRS Nagar,
Ludhiana
Ph: +91-161-2451947
Mobile : +91-98147 01947

Medical Reports
The Final Words of God wins all diseases even fatal as Pulmonary Fibrosis
3/29/2013 11:21:05 PM
Mrs. Tripat Kaur aged 74 was terminally sick and she suffered from pulmonary failure from the last 4 years. She had to be given oxygen from a portable oxygen concentrator through nose all the time and in spite of this help her lungs could not absorb enough oxygen to make her stand up on her own and take even one step without help. And nothing more could be done any where in the world. She had her treatment in California and only recently was shifted to Michigan. Her husband and her sons are deep devotees of Gurbani and pay regular visits to Gurdwaras. Sarab Rog Ka Aukhad Nam Mission Ludhiana had organized the healing camp at Gurdwara Madison Heights, Lincoln Ave, MI from June 26 to 28 June, 2009. Her family had filled the form for her and she was not brought to the healing camp as it was difficult for her to be transported.

Dr. Balwant Singh had seen many miracles like healings in these camps so he had suggested to bring her to the camp. She was brought for one day. It was surprising for her attendants that she was looking far more comfortable by the evening and in the morning she did not require any support for going to the bathroom. And she was looking at ease all the time and she could watch TV with her grand children. It was amazing cure.

The death cannot be stopped by any body and it did come to her also and she had a very peaceful end on 3rd of July, 2009. This amply shows how Gurbani can enliven dead lungs also.

Mrs. Tripat Kaur (aged 74 years)
w/o S. Kulwant Singh
3445 Century Oaks Dr. Oakland,
MI 48363 USA

Medical Reports
Aids
3/29/2013 11:10:32 PM
We had one patient who was fully cured. The young lady had lost her husband to Aids and she along with her son had become HIV positive. She was losing weight and she had constant fever. She had attended the Healing camp in 2002 and she is cured from this disease and she is having normal health. We talked to her only recently and she was very happy and satisfied.
Multiple Neurocysticercosis of Brain
3/29/2013 11:07:39 PM

In 1998, at the age of 10 years,he developed severe headache and vomiting and after a series of tests in AIIMS ,Delhi he was diagnosd.In 5 years of treatment, his condition became worse ,was getting repeated fits many times a day ,his blood pressure shot up and had put on abnormal weight and was in the hospital most of the times. His parents were quite desperate at that time in 2003 he was brought to the healing camp at Ludhiana. He showed sudden and remarkable improvement, his dose of steroids was stopped and he started losing weight. He is almost cured though CT scans shows improvement not, to the extent as he has made progress.

He did not have any fit in the last 2 years and his medicines are reduced.You cannot give a better example of miracle cure through Gurbani.Those who don't want to recognise this fact are living in denial which may be dangerous for them.After all what is there to lose?

Ramneet Singh
S/O S Tarlochan Singh
B-369, Majlis Park,
Gali No,2. Adarsh Nagar, Delhi
Ph : 011 27682819

Medical Reports
Duchenne's Muscualr Dystrophy
3/29/2013 10:59:28 PM

A genetic disease of Muscles of male children, causes early death. It causes progressive failure of the muscles and the disease starts from the muscles of heel and then progresses to involve other muscles. This is an exceptional case in female child and it was diagnosed by a renowned doctor of Amritsar. The child is showing steady progress and her growth is normal and weight is also normal. Otherwise with this disease the child loses weight as the muscle mass decreases with the progress of the disease.

This could be the first case of cure in the world. This fact is in sharp contrast to the nature of the disease.

Miss Anjalpreet Kaur
D/O S Kamaljit Singh Sidhu,
VPO. Ramgarh,Dist Ludhiana.
Ph : +91-161-2848994
Mobile : 98762 48994

Medical Reports
Cerebral Palsy
3/29/2013 10:57:32 PM

He was born on 19 Dec, 1970 at Ambala as a normal healthy child but at the 1 yr he developed very high fever due to the brain infection -encephalitis. He became unconscious and his eyes were turned upwards and he was just breathing of his own otherwise his existence was like a vegetable. He was taken to various hospitals like CMC Vellore without much benefit. His mother took to praying only and she had succeeded in her mission when the family shifted to Ludhiana in 1995, he was brought to the healing camp at Ludhiana. He made a steady progress. He started walking, he was totally dumb now he can communicate .

There was no control on bowels and urination. Now he is normal and there is no abnormality in his behavior and he can control his bowels and urine. A new life had been provided. He is attending the RNC regularly for the last many years. He is living a normal life and his improvements are permanent.

Gurpreet Singh
S/o S Amolak Singh and Amrit Kaur,
255 -A Model Gram,
Luhdiana.
Ph : +91-0161-5050843
Grand Mal Epilepsy- Generalized Epileptic Seizures
3/29/2013 10:55:30 PM
Grand Mal Epilepsy- Generalized Epileptic Seizures, tonic and clonic, fell unconscious and fits during sleep also from 17 years.
He could sleep well without fits for the first time in 17 years on the first day of healing camp at Ludhiana. He is lucky to have such a wonderful relief from such a trouble some malady. He had head injury about 17 years back which was followed by generalized seizures. He was under constant care of doctors and was being given the available best treatment from a reliable hospital. He would get these attacks even in sleep and he did not have restful sleep all these years. He would fear sleep. It was the first time that he could sleep without such attacks of muscle stiffening then contractions of all the muscles of the body. These episodes are unpredictable can seriously impair the total life style of the patients. These episodes can cause serious injuries to the limbs and even death. The life is hanging in a large uncertainty.

Dear friends, if such a short exposure of prayers to the patients can give such a lasting relief why not try this super cure on your so many desperate patients. We can extend this help to any hospital.

Parminder Singh( age 33 years)
Diamond Trailor Transport, Happy Dhaba,
Ring Road No.2, Tatibandh,
Raipur, Chhatisgarh.
Ph : 0771 4281393 Mobile: 99815 03869

Medical Reports
Chronic Renal Failure
3/29/2013 10:44:19 PM

The retired SDO of Panjab was suffering from kidney failure as a consequence of diabetes. His blood urea and serum creatinine were very high and he required dialysis twice a week. He was just pulling on, otherwise his appetite was suppressed and he could not take much food for over 6 few months.

He was anemic and had insomnia. This all happened about 10 years back. He was brought to the healing camp in a very bad state. Just on entering the premises, he asked for the food. His daughter was surprised and was happy to note that change. When he went back his kidney function had improved. He required dialysis only once a month and his health improved to a great extent. His daughter gave us in writing the sudden transformation.

He lived for 2 years and died owing to some injury. Till his death he remained quite healthy. His daughter, Mrs Jasbir Kaur is a teacher in a private recognized school.

Late S. Prem Singh
C/o Mrs Jasbir Kaur
148, Street No 3, Jasdev Nagar,
Near Nankana Sahib Public School.
VPO- Gill, Ludhiana.
Ph : 0161 3953891
Chronic Inflammatory Demyelinating Polyneuropathy
3/29/2013 10:41:28 PM
This lady had developed epileptic fits and loose motions and the cause was labeled as tropical sprue. She suffered for 10 years, before she came in contact with the mission. She was pulling on but her condition had worsened when she had an attack of epilepsy she developed weakness of hands and remained unconscious for two days. When she regained consciousness she was unable to walk. Then the real diagnosis was clinched. Doctors had told her husband that it was progressive disease of nerves and there was no cure available for her. At that stage they came in contact with the mission and a programme of shabad keertan was organized at her residence. On the very first day, she felt energized during the one hour programme of the mission; she could turn her side in the bed for the first time. Now her disease had gone and she is moving about without difficulty.

There is no such case of cure of this disease in the entire world. It is known to follow HIV infection also. Since then her family is regular in prayers and the reward is surprising. Now she is walking and there is no other problem with her.

Mrs Jagdish Kaur
420-D B.R.S. Nagar,
Ludhiana
Ph : 0161 2461013

Medical Reports